In the world of banking, finance, and business, you need to be confident that your translator is skilled, reliable, and ready to stand behind every single translation he or she delivers. In other words, you need a partner willing to put his or her reputation on the line for you, every time.
Whether you are introducing a new product or preparing your company's annual report, translation is often the final, crucial step. And yet, that last detail – translation – can make or break your project, and with it, your chances of a positive return on the often substantial human and financial resources you have invested.
Putting your project's success in jeopardy is simply not an acceptable outcome. You cannot afford your message not reaching your readers due to a clumsy translation.
Your translator must master not only your target readers' language, but also your industry's language – the language of banking, finance, and business.
You need to be able to place your confidential, mission-critical, and highly technical documents in the hands of partners you can trust to master not only terminology, but also tone of voice. Translators with inside knowledge of the industry: either former industry professionals who have honed their language and translation skills, or seasoned linguists who have completed extensive training in corporate finance.
And to ensure that all documents translated meet your exacting standards, you want the translations to be cross-checked, edited, and proofread by a second specialist before you receive them.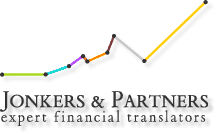 Copyright © 2009 - Dominique Jonkers
Réalisation du site : XP-Internet