At Jonkers & Partners we entrust your documents to our network of seasoned professional translators carefully selected for their time-tested expertise in banking, finance, and business. And of course, all members of our network translate exclusively into their native languages.
All translations are proofread by a second translator.
We work closely with our customers, asking them to clarify any questions we have to ensure that we thoroughly understand and convey the intended message.
To ensure total customer satisfaction, we prefer to turn down assignments with extremely tight deadlines that would not allow us to provide the level of quality in which we take pride.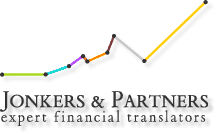 Copyright © 2009 - Dominique Jonkers
Réalisation du site : XP-Internet